NETSUKE BY SEIHOSAI MEIKEI
BORN IN 1932. THIS ARTIST WILL GO DOWN IN HISTORY AS THE GREATEST NETSUKE-SHI OF ALL TIMES. HIS OUTPUT NEVER EXCEEDED 6 PIECES PER YEAR. MEIKEI WAS NEVER PRESSED TO RUSH FOR INCOME AS HE WAS UNDER SPONSORSHIP. HE ONLY DID THREE OF THE SAME SUBJECT MATTER, BUT WERE ALWAYS FINISHED VERY DIFFERENTLY, USING A DIFFERENT MATERIAL OR INLAY. THERE WERE MANY COLLECTORS IN THE 80'S LINED UP TO ACQUIRE HIS MASTERPIECES. THE ART WORLD RECOGNIZES OUTSTANDING ARTISTS WHETHER CONTEMPORARY OR FROM TIMES GONE BY.FOR THE FULL STORY OF THIS ARTIST WORK SEE INCS JOURNAL, VOLUME 12 NO 3. IF YOU DON'T HAVE THIS MAGAZINE CONTACT US AT INFO@4BERNARDHURTIG.COM .

DUTCHMAN WITH FINGERS CROSSED
HOLDING A GOLD CROSS BEHIND HIS BACK.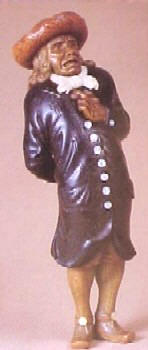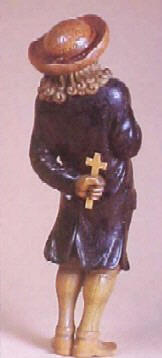 Ebony, Boxwood, Ivory, Aogai, and Gold.
Illustrated in the INCS Journal Volume 12 No 3.
Signed SEIHOSAI MEIKEI.
This netsuke was created for me when he was
50 years old and at the height of his skills.
Today he is 69 years old.
The Portuguese were kicked out of Japan for
converting the Japanese to Catholicism
in order to exert influence.
After this Era, The Dutch became the chief traders
with Japan and were confined to an island in the
harbor of Nagasaki.
This Dutchman is promising not to
spread religion, but has negated the pledge by
crossing his fingers.
FOR INQUIRIES E-MAIL OR CALL US AT
(808) 947-9399.
Click here for next Netsuke